The Long Tom Watershed Council (LTWC) will be holding a tour on Tuesday, May 28th at 5:30pm at Deck Family Farm. This tour is free and open to anybody who is interested. Speakers will be John Deck, Pat McDowell (University of Oregon geomorphologist), and Jed Kaul (LTWC fish biologist). Topics will include landowner goals, how improving stream habitat coexists with the goals of a working farm, how the project improves the migration for native fish, and why the Bear Creek basin is important for cutthroat trout.




Questions should be directed to Rob at LTWC 541-338-7060 or visit the

LTWC website

for more information.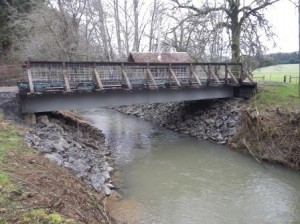 View of bridge that replaced an under-sized culvert.